Visiting Kiev
Veteran music executive Don Grierson, credited with discoveries such as Celine Dion, guest speaking re the new blockchain venture YOUNK, at the NEXT BLOCK CONFERENCE in Kiev, Ukraine last week.

Sharing the project's vision and goals during an ICO pitching session at the event, Don cited the challenges faced by the music industry with the advent of the internet, which led to a sharp decline in revenues due to piracy and illegal streaming.

With time, however, the industry has recovered, especially since the use of legitimate online music streaming services has increased. Now, given the new opportunities presented by blockchain technology, Don believes the community can play a much bigger role and say in what music gets produced and distributed.

Younk essentially seeks to decentralize music production and give power to the community, as opposed to the big labels, which currently dominate the music industry.
Being interviewed by Stuart Rogers, Venture Beat, at the NEXT BLOCK Conference in Kiev, Ukraine last week.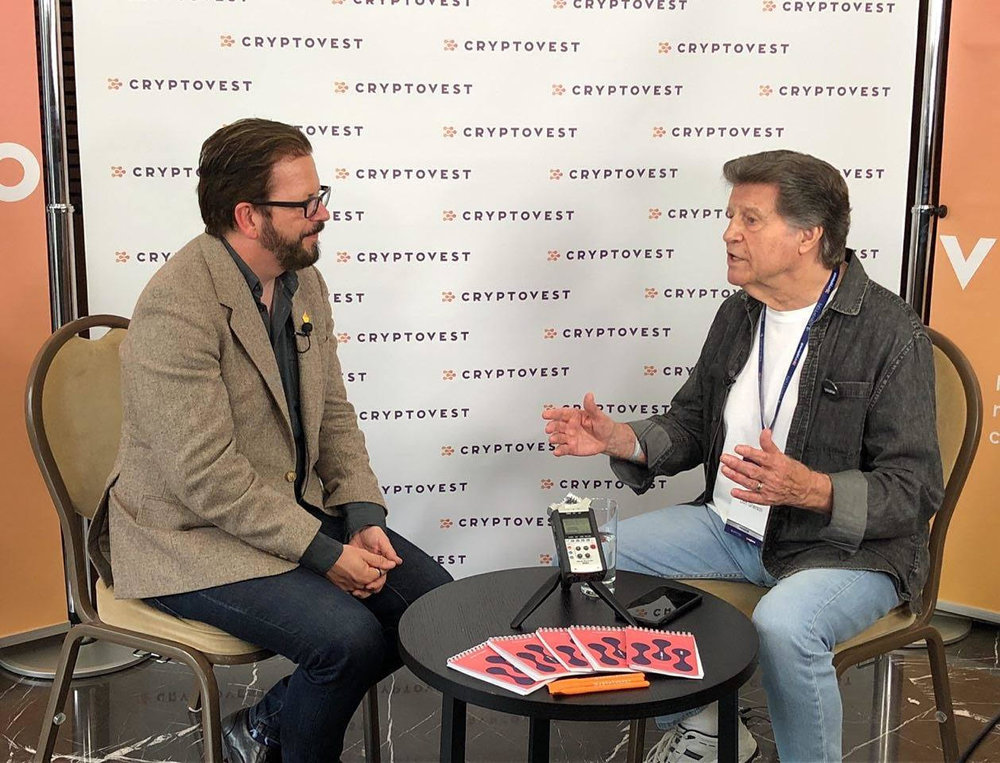 MUSIC NEWS
MAY 2018
Collectively, Indie Labels Are Now Bigger Than Any Major Label
Indie labels are now outranking major labels in terms of total marketshare. In fact, this is the second-straight year that's happened.
Universal Music Group is a giant major label valued at nearly $40 billion. But maybe indie labels are worth more than than. According to revenue data compiled by Music & Copyright, indie labels collectively outranked Universal Music Group for the top slot in 2017.
"A repeat of 2016 saw independent record companies collectively account for the biggest share," Music & Copyright relayed.
Specifically, indies pulled a 32.2 percent marketshare, with Universal Music Group following at 29.7 percent. Sony Music Group finished with 21.9 percent, while Warner Music Group lagged with 16.7 percent.
The rankings are based on revenues earned, instead of units sold or total streams.
YouTube Music Will Be Supported By The Biggest Advertising Campaign In The Company's History
This time, YouTube looks serious about its music subscription service. Get ready for an absolutely huge advertising push — with Cardi B kicking things off.
At first blush, YouTube Music Premium sounds like another half-baked re-run. Over the past few years, YouTube has attempted numerous subscription launches, not to mention an identically-titled 'YouTube Music' back in 2015. Titles have changed, projects abandoned, and executives rotated.
It's all been a Alphabet-inspired mess, with more focused companies like Spotify and Apple taking the cake when it comes to paying subscribers.
But maybe that's about to change. According to YouTube, the upcoming YouTube Music will receive a massive media push, one unprecedented in the company's history. Already, Cardi B has joined the effort, and other artist superstars are probably on the way.
"This will be the biggest marketing spend YouTube has done to-date," YouTube Music product director T. Jay Fowler just told Bloomberg.
Fowler declined to specify the exact amounts involved. But given that YouTube has triggered some substantial marketing campaigns in the past, this is probably a budget easily tipping into the tens of millions. Just recently, YouTube started a serious marketing blitz for its YouTube TV service, an OTT (over-the-top) offering that includes coveted sports programming. Even the now-rebranded YouTube Red had a multi-million dollar ad campaign, with splashy banners peppering expensive areas like the Sunset Strip.
At a top level, the latest blitz is expected to traverse online and conventional TV, with major sporting events part of the push. Actually, YouTube will use its own platform aggressively, starting this week.
BTS Breaks YouTube 2018 Record, 36M Views In 24 Hours
Korean K-Pop stars BTS' official video for their single "Fake Love" received 35.9 million views in its first 24 hours, making it the biggest 24-hour debut of 2018 and the third biggest 24-hour debut of all time. BTS now occupies two slots on the top 10 all time 24 hour debut list, with their 2017 video for "DNA" standing at the #9 slot with 22.3 million views.
The video exploded on YouTube immediately after its release, receiving over 4.8 million views in its first hour, The video received over 3.9 million likes on 3/18, setting a new record for most single day likes for a video in YouTube history.
BTS also hold the second and third slot for the most "likes" in a single day, with their videos 'DNA' (#2 with 2.3 million) and 'MicDrop, Steve Aoki Remix' (#3 with 2.3 million).
Warner Music Quietly Launches Free Tunecore Competitor
Warner Music Group has quietly launched a digital music distribution service that is a direct competitor to Tunecore, CDBabyand DistroKid. Level Music, which WMG has never announced it's involvement is live online, accepting artists and offering some additional service.
Level Music has launched as a digital distribution platform for unsigned artists. Controlled by Warner Music Group, Level will deliver music for release to Spotify, Apple Music, iTunes, Amazon Music, Google Play, TIDAL, Pandora, Deezer, and Napster "without any upfront charges or fees." Artists will keep "100% of your rights, royalties and earnings."
Level also offers free tools to showcase releases including Linkfire powered intelligent landing pages that route fans to their preferred music service. The free ride, however, may not last forever.
"We believe in building a product that gives lasting value to artists.Therefore during this beta period, Level is free of charge as we gather feedback to build a platform that best serves our artist community.
Level Music was launched last week by Warner Music Group without an announcement. Only research of the company's filings reveal the major label group's involvement. Radar Scope LTD is listed as the owner of the Level Music site. A search of UK company registration records lists three top WMG UK and US executives using WMG offices in London and New York as their address.
This Week in Billboard Chart History
Your weekly recap celebrating significant milestones from more than seven decades of Billboard chart history.
May 21, 2011
Adele began the chart-topping reign that would net her the top song of the 2011 chart year, as "Rolling in the Deep" spent its first of seven weeks atop the Billboard Hot 100.
May 22, 2004
The bad news: Usher fell from the top spot on the Billboard Hot 100 after 12 weeks with "Yeah," featuring Lil Jon and Ludacris. The good news: he replaced himself at the summit with follow-up "Burn," which would reign for eight weeks.
May 23, 1998
Mariah Carey scored her lucky 13th Billboard Hot 100 No. 1 with "My All." She's since upped her total to 18 leaders, the most among all solo artists in the chart's history.
May 24, 1997
Its lyrics may have been somewhat nonsensical, but, thanks to its undeniable hook, Hanson's "MmmBop" became a smash, beginning a three-week stay atop the Billboard Hot 100.
May 25, 1991
Mariah Carey, who notched her fourth Billboard Hot 100 No. 1 in as many tries from her debut self-titled album, as "I Don't Wanna Cry" reached the top spot. It followed "Vision of Love," "Love Takes Time" and "Someday" to the summit.
May 26, 1984
Give it up for Deniece Williams! And, "Let's Hear It for the Boy," too, as her smash reached the top of the Billboard Hot 100.
May 27, 1995
Hootie & the Blowfish's breakthrough album Cracked Rear View, featuring the monster hits "Hold My Hand," "Let Her Cry," "Only Wanna Be With You" and "Time," spent its first of eight weeks at No. 1 on the Billboard 200.