"Vinyl records are projected to sell 40 million units in 2017, with sales nearing the $1 billion benchmark for the first time this millennium. This impressive milestone has been untouched since the peak of the industry in the 1980s. While explosive by today's standards, according to Deloitte.com, in its heyday ('81), total vinyl album sales surpassed 1 billion units in just that year alone." – Don
This Colorado Startup is Taking an Analog Approach to Disrupting the Record Industry
The rise of streaming services has undoubtedly shifted the way music is discovered, shared and experienced.
Shifting from analog to digital, today's generation of avid listeners have seemingly transitioned away from compiling physical collections, becoming accustomed to downloading albums, creating playlists and storing their entire music library on mobile devices. Yet, despite new mediums emerging, what connects fans from every era is an appreciation for developing a deeply personal relationship with the artists and songs they love.
While headlines are dominated by the ongoing battle between digital giants like Spotify and Apple Music, one Colorado startup is fueling a thriving sub-culture of record collectors actively bridging the generational gap between die-hard music fans.
Founded in 2013, Vinyl Me, Please (VMP) is a membership-based record club that distributes original, re-issued and custom vinyl recordings to fans around the world. Since starting with just 12 paid subscribers, the company has quickly evolved into a growing network of over 20,000 members globally. Each month, every member receives a hand-selected vinyl delivered directly to their door, pressed on colored or patterned vinyl, and sent along with a custom art print and cocktail recipe.
VMP also operates an online store that gives visitors access to a curated catalog of exclusive pressings and box sets. Their digital shopfurther showcases recordings from independent and emerging artists across genres, making their site a trusted destination for purely discovering new music without the assistance of algorithms or pre-determined preferences. In addition to running an online store, theirdigital magazine drives over 500,000 monthly unique visitors, featuring original video content, editorial stories and artist interviews.
Focusing on expanding their community and connecting members through physical experiences, the group hosts a nationwide series of concerts and events, collaborating with brands like Mastercard and Tumblr to execute experiential activations all throughout the year.
Read more: Forbes.com

"Scooter Braun has an established relationship with CBS where he serves as an executive producer on procedural Scorpion, which is entering its fourth season at the network. He is what one would call a "super" manager, key clients include Justin Bieber, Ariana Grande. Kanya West and Usher. I wouldn't bet against him." – Don
Scooter Braun
CBS Eyes Scooter Braun Singing Competition Show

Should the project move forward, each of the Big Four broadcast networks would have a singing competition show.
CBS may go head to head with American Idol, The Voiceand The Four.
The network is developing a singing competition series with manager and producer Scooter Braun, sources tell The Hollywood Reporter. CBS declined comment.
The potential series is in the early stages; it's unclear if the project is based on an original idea or an existing format, though sources say the latter is more likely. Also unclear is if Braun would have an on-screen role or remain behind the scenes as an executive producer.
Should CBS move ahead with the Braun entry, each of the Big Four broadcasters would be home to a singing competition show: ABC is bringing back American Idol for midseason, NBC has veteran The Voice and Fox recently picked up The Four, the latter of which is based on an Israeli format.
That CBS would eye an expansion into the singing competition genre comes months after the network was offered American Idol but declined to engage in conversations to add the pricey series to its lineup. "The price is so expensive, you need a 35 share to break even. … The economics made no sense for us," CBS Corp. chairman and CEO Leslie Moonves said in May.
The project expands Braun's relationship with CBS where he serves as an executive producer on procedural Scorpion, which is entering its fourth season at the network. Braun, a manager who launched the careers of Justin Bieber and Carly Rae Jepsen, among others, is also reportedly exploring a seat at the judge's table on The Four, though Fox declined comment about his potential involvement. A deal for either The Four or the CBS show have not been set.
A CBS deal would put increased pressure on ABC's American Idol reboot — which features Katy Perry and her $25 million payday joining host Ryan Seacrest — as well as Fox's The Four and NBC's aging veteran The Voice as the arms race for talent seems poised to intensify.
"Technology screams ahead. I'm no techie but this is definitely another step in making it easier for the consumer to get what they want, when they want it and play or view music on their schedule." – Don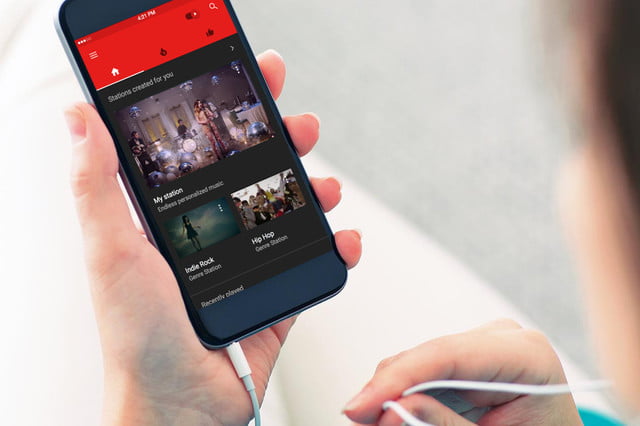 YouTube Music Gains Ability to Download Songs, Albums, and Playlists
You've likely experienced spotty data in the past, but now YouTube Music users don't necessarily have to worry too much about that.
While Google has said that YouTube Music and Google Play Music will soon merge, that doesn't mean Google isn't working on improving YouTube Music in the meantime. In fact, the company just launched a major upgrade to YouTube Music, now allowing users to download songs, albums, and playlists for offline listening.
Now, this isn't the first time users have been able to download music on YouTube Music, but it is a serious improvement for ease of use and convenience. Previously, you could download music through the offline mixtape feature, which was automatically created based on your listening history — that meant you had little control over the specific songs that were downloaded.
Saving music to listen to offline is pretty easy to do. Simply tap on the menu icon next to a song, album, or playlist, then hit "Save Offline." You'll get a notification asking if you want to save the audio or video, and if you want to save the video you can choose between SD or HD. On iOS things are even easier — simply swipe the song, album, or playlist left, then tap the offline button. Then, to access your offline music, tap on your profile photo and hit the "Offline" button.
It's a nice feature — but one that should have been included before. It also makes the service even more similar to Google Play Music. Google confirmed that the two would be merging in a report from The Verge, which followed a report from February that noted that the two teams behind the services had been combined. We don't yet know exactly when the two will combine — but moves like this suggest that Google is working to make the experience the same across both services before the merge takes place.
It does make sense to combine the services. Subscribing to one automatically gets you a subscription to the other, and combining them will simply make things that much easier for users. It's also not certain yet how the merger will be handled — it's possible YouTube Music could simply be absorbed into Google Play Music, or vice versa. Or, it is also possible that a totally new service will be created to house the features of both.
Read More: DigitalTrends.com
Video of the Week
P!nk "What About Us"
Click Here to View
Quote of the Week:
It's an endless proving of myself, that I really am a musician, that I have something to offer in the room. That woman canbe musicians, women can be rock stars, women can be more than an objectified idea of a pop star.
– Lady Gaga